A  story from Jim who answered the call for someone's lost ring.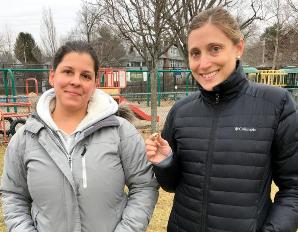 Well Jeff, Dave and everyone who wished me luck this morning before I set out to meet with "A", the wife of "T", who lost his wedding band; within an hour of our meet-up at the soccer field the lost ring was in her hand. [see pics above]
BUT, I did not find it. So, here's my "shaggy dog" story… I've used the first initials "A" and "T" here for the ring's owner and his wife. I have permission to post the photo.
Back a few months ago, "A's" husband was the goalie at his son's soccer practice when he noticed his large, white-gold wedding band was gone, right after he'd reached out to slap a ball from getting past his defensive position in goal. A search of the immediate area was unproductive. They reached out to a local Facebook page and saw that other rings had been found at the same park, but not theirs.
Back to this morning's search. The ground was still quite frozen where the soccer net had been and there were some field markings to help keep me on a thorough search pattern. "A" also helped mark the outer edge of my coil swing patterns. I wasn't concerned about frozen ground, as a ring lost a few months ago, would be no more than just below the surface, if it had been stepped on.
Curious dog owners and tot lot mothers asked what we were looking for. After 35-40 minutes of searching, another dog walker, Didi, who had stopped to watch us, asked if we were searching for a ring. Yup, you guessed it. Right at the end of soccer season, she had found a "silver" ring (easily mistaken for white gold). "A" described it, including the engraving inside the band and it matched the ring that Didi had found and posted on the town's Facebook page, with no response from an owner. After everyone was satisfied that we were all talking about the same ring, Didi called someone at her house and had them text her a photo of the ring to her phone. A match !!! Didi lives only a block or two away and off she went, with her pooch, to retrieve the lost, now found ring.
Meanwhile, "A" and I are both dumbfounded by the serendipity of the whole situation and thrilled to pieces that her husband, "T" will have his ring again.  I guess if "A" and I had not been out to that park at that time, Didi would not have happened upon us and been able to give the ring back. So I guess I did help a little, after all. Happy ending, all around and nice to meet two really nice people today.