The next meeting will be October 25th following a special OPEN HOUSE Meeting at 6PM before the regular bimonthly meeting.
Just direct those that are interested to our home page for the link.
There is a hunt in NH open to everyone on November 1st . Check out this link:
https://digfortreasures.com/
*********************************************
We started the evening with stories and showing some of the members favorite relics.  
Glen's "Jew's Harp"; a variety of Bongs in Rick's collection; Ken's 1700's Military Belt Buckle; Scott's 20 pound brass propeller ; A huge group of (112 )pieces of silverware flatware Dan found in a river over  a years time; Paulo's antique granite wear coffee pot; Mark's Granite hunk with some red garnet impeded in it; also Bobby and Su had a huge crystal and Turquoise pieces.
Best Facebook Favorite Jewelry Find  was won by Scott with a 22K Gold Bracelet weighing 48 grams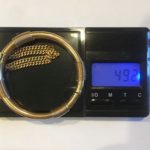 Best Facebook Find went to:
1st Prize Joe Mishley- George Washington Button
2nd Prize  Kevin Mitchell -King George Coin
3rd Prize to -Su Denault for a Heart Necklace
Raffle Prizes were won by: Dan Dave (2) Aiden, Bob and Su, Mark and Paulo
The 50/50  raffle was won by  Scott
The Indian Head Penny Draw for 2 Standing Liberty Quarters (virtual) was won by Scott, who drew a regular cent.