After a special earlier Open House Meeting with 4 guests (Tom, Alex and Jay)we followed with our bi-weekly meeting. Cary joined us from Virginia, and our newest member Louis from Swampscott.
We planned a November outing to the beach, after the fun trip to Nantasket this month, tentative for Nov 14 or 15. We'll make final plans on the 8th at our next ZOOM meeting. A fantastically low tide will be mid-day.  Details soon. Boots, warm clothes, maybe a headlamp?
We also urge any member interested in buying end of the year raffle tickets to do it now! With no in person meetings we have been buying them by sending direct amounts to Paulo. With Mark's help we have the tickets to draw and WILL award all 12 of the items in December, even if we aren't meeting in person.  Even if you don't attend ZOOM meetings you are eligible to buy and win an item.  Mail your $2 each ticket requests to Paulo at the address listed in the newsletter and note your full information of what the money is for and your full name in the note.
Discussion on double and triple checking any hole we dig when hunting lead to many stories. Members tried to identify a mysterious jewelry find of Steppers.  We had a few discussions on ground balancing pinpointers, trekking into the woods safely and avoiding those "no's" from houses that are so promising when we are out getting permission. A huge amount of bi weekly finds and a good crowd resulted in a great meeting. Right Dave? ……..Dave?
Best Facebook Favorite Pet with a find picture  "Halloween cat" Lilio was won by Bob Denault
Best Facebook Finds went to:  (more photos on the FB page)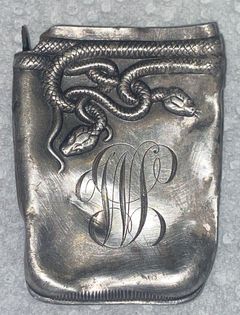 1st Prize Judi with her Silver Matchbook case  (left)
2nd Prize  Mary's Gold Ring
3rd Prize to -Joe Mishey's   2 Latten Spoons from 1 hole, in great shape.
Raffle Prizes were won by: Rick, Bobby and Su, Stepper and Marita
More Mercury Dimes went to Aiden, John McG and Paulo
The 50/50  raffle was won by  Aiden ($61)