19 Members attended our meeting.    (And 15 ! cats)
The meeting opened with some hunting reports from everyone out enjoying the great warm fall weather, and comparisons of witnessing the 3.6 earthquake Sunday morning. A few reports were from those who have some recent great locations with permissions. Members told a few finding a "pot stories", expecting to find a cache of coins.
We made final plans for an outing both Saturday the 14th and Sunday the 15th to Wollaston Beach between the 2 yacht clubs. There will be a few of us on both days, so plan on joining us.
The low tide is about 5PM. We might be hunting in the dark, so bring a headlamp, and plan to wear boots. Some folks will be at Carson beach Friday the 13th at L Street near the bath house.
We will be ZOOM meeting on December 20th and have the "holiday drawing for the 12 items.
A 1934 Peace dollar (double die) has been added to the Holiday item raffle.   You can still enter by sending money to the treasurer.
Best Facebook Favorite " item with a location on it"   was won by   Rick Smith
Best Facebook Finds went to: (more photos on the FB page)
1st Prize  Scott with a Barber Quarter and Dime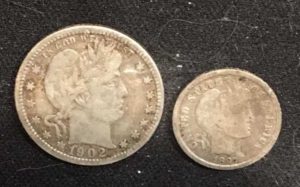 2nd Prize -Phil LeBlanc for Barber 1/2 Dime
3rd Prize to -Bob Eckel for Flowing Hair 1798 Cent
Raffle Prizes were won by:Johnny Cache, Glen, Mary,  Judi and Louis
The Indian Head Drawing drawn by Johnny Cache was a Wheat Cent (no win)
More Coins went to Glen Johnny C and Bob O'Neil
The 50/5  raffle was won by  Glen ($55)