23 Members attended     Steppers meeting notes 2-14-21 Zoom meeting
Our meeting opened with a discussion that lead to planning an additional open meeting for the interested public. We have had more people asking to attend, and have a plan to film a question and answer ZOOM video to put on our web page.
Discussion continued with chats about New Mexico hunting trips. Hopefully traveling will be available in the near future.
Many members had information and input to a idea to plan a trip to NH, perhaps as a group overnight trip. A little more research will be done.
Rick joined us in person from Beth Israel Hospital from his private room. It's been quite a month for hospital and doctor visits.
The increase in silver prices has had us reconsider our award system. We might have to make adjustments if the price goes to high. Thanks to our Treasurer who has made some wise purchases for us to keep our club ready to give rewards for the club.
A long discussion of Minelab and other machines lead us to decide to take better care of all our equipment. A few solutions to problems were shared.
Best Facebook Favorite " one sentence sentence of a bad thing that happened on a Hunt" was won by Scott for "I had wrapped my hose around a buoy line several times, as I started to surface the hose got stuck. I was able to take off the harness and make the surface with no air to spare as they say!"
Best Facebook Finds went to: (more photos on the FB page)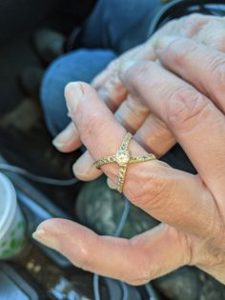 1st Prize- MJ for a ring
2nd Prize -Mary for her Ring
3rd Prize- Mary for her Mercury Dime
Bi weekly Raffle Prizes were won by: Don Latino, Rick Smith (2) (gifts from other winners)
The Indian Head Drawing was drawn to be MJ , who did not win the  Silvers, more will be added for the next meeting.
The 50/50 Raffle was won by  Paulo ($75)