21 Members attended              
The meeting opened with us greeting Rick, again making an appearance from his new unfavorite hunting spot.
Discussion of recent hunting trips and reports of Sunday's rugged weather gave us information about Spring's arrival.
A long discussion on fall hunt plans gave us many options for funding and planning what we might be able to do. We will further discuss this in the coming months.
We decided to again approach the Woman's Club by mail about a date we might return to Newton for meetings.
Wanting to get together soon, we decided to have a "Egg hunt" next Saturday at Wollaston Beach for all club members. We sent out an invite to all as the meeting ended. See you there!
Sandi (Stepper off on a trip)
Reminder: New raffle prize to be raffled on May 9th . A beautiful boxed collector item of a Mexico Reale from the Cazador Shipwreck authenticated. Chances are $1 each You can mail Paulo for the purchase, or use our raffle donation online, and let Mark how much $$ you are using to buy raffle tickets.
FACEBOOK  Finds Prizes:
1st Prize- Joe M for 1886 Silver Dollar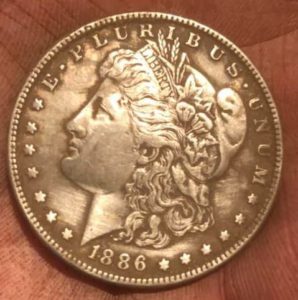 2nd Prize -(tie)Glenn for Seated Dime & Mark for WWI Button
3rd Prize- Aiden for Silver Ring
Bi weekly Raffle Prizes were won by: Sue  R, Joe M and Mary
Bonus drawing went to Sandi, John Mc, and MaryJane
The Steel  Head Drawing was drawn to be Bob O'Neill who did not win, so another coin will be aded for  the next meeting.
The 50/50 Raffle was won by Sandi  ($70)