Notes from Stepper
Scott Ferguson Spoke about the possibility of resuming Club meetings perhaps in September or thereabouts. It will involve a tactical situation regarding availability and opportunity for nearly everyone to get fully vaccinated against COVID-19 by  the time the doors reopen.
Scott gave a recap of the Easter Egg hunt that took place on Wollaston Beach on Saturday, April 3. Everyone had a great time, and found lots of Easter eggs filled with silver coins.
Mary McCue told her story about Scott finding multitudes of gold rings, and when she found her first ring she also got "hooked" on metal detecting!
Christina is getting a new Minelab detector soon. She showed us some old (late1800s / early 1900s) bottles she found in her backyard. She also plans to get a
fine sifting screen, perhaps ¼" hardware mesh. Christina suggested that the Diorama contest is a good place to post dug lead soldiers. Thanks for sharing, Christina, and best of luck with your new detector!
Rick told an interesting story of how he set a goal to always find at least $3 in clad coins at each round of detecting. One of these ventures led him to a site where he found lots of obsolete coins including a Barber half, a Spanish reale and a large cent!
Dan Schwartz spoke about how he got permission to detect a 1600s house yard that had been dug up, but was disappointed in not finding anything of interest.  Mark Roberts mentioned that his Equinox 600 screen cracked and he sent it in, and will have it back in time for his upcoming trip to Texas to visit family. Mark also recapped the status of the El Cazador contest, indicating that $531 has been collected for the drawing next month.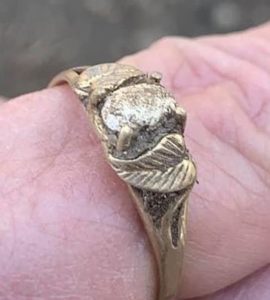 Two-Two-week Finds Contest winners:
1st – Glenn Godwin – 18K gold ring with precious stone
2nd – Kent Blethen – Victorian silver cufflink
3rd – Judi Batchelder – 1925 Charlie Chaplin movie token ("The Gold Rush")
Buffalo nickel draw – Judi Batchelder – didn't win so there are now 4 Standing
Liberty quarters in the pot
Raffles:
1897 Morgan dollar – Judi Batchelder
1962 Franklin half – Mary Jane Tsiakalis
1943 Walking Liberty half – Paulo Adams
50/50 – Rick Smith ($55)
"Captain Morgan" Albert Einstein silver round – Stepper Camilleis