April 25 minutes by Stepper
Scott spoke of his scuba diving adventures where he has found lots of good stuff in lakes and ponds.
There was discussion about the current and changing parking situation at Revere Beach. Parking meters were installed, and special permits for seniors will be effective      May 1. We are also clarifying whether the street (Revere Beach Road) is DCR or municipal property.
Four members were back after health concerns.
Phil is back on his feet now and able to go detecting.
Speaking of "Tree" coins, Scott spoke of a recent acquaintance, a lady who just started detecting a year ago, who recently found a 1662 Pine Tree twopence … beginners luck?!
Sandi told us an interesting story about an event just a few days preceding her stupendous find of a 1652 Pine Tree shilling over a year ago. She explained that good acts earlier in the week resulted in the rare coin she detected!
Bob was logged in to our meeting from Tampa where he was paying respects to his family. Bob told us a story of how his brother would give a gift to his sister, such as a two-headed silver dollar or a colorized $2 bill, on her birthday which is April 15. Then on Richard's birthday, April 23, she'd give it back to him. This family tradition went on for 55 years!
So many great finds this month! Broderick took his toddler son to the beach, and Broderick found a Civil War Union artillery button. Glenn , on
another detecting trip, to New Jersey this time, found an 1807 Mexican half-reale and lots of other goodies. Judi found an amazing 1924 high school class ring made of 10k gold. She also found other great stuff, including an 1855large cent in incredibly preserved condition at an old yard.
Congrats to Joe Mishley for winning the Diorama lead soldier contest.  Joe presented an array of dug toy soldiers, 3-ringer bullets
and other cool items.
Paulo Adams mentioned that he's already collected $511 in ticket sales for the El Cazador 1780 Mexican 2-reale coin that had been donated by Jack Beth, one of the MTHA's "Founding Fathers." Jack has since retired and moved to Arizona. Paulo has sent out an email to all members about the deadline for purchasing tickets for the raffle of this historical coin salvaged from the El Cazador, which had sank in 1784.
The April item for the end of year raffle is a 1935-D Arkansas Centennial commemorative half dollar, of which only 5,505 were struck. This is a beautiful coin and appears to be in nearly mint condition.
Two-week Finds Contest winners:
1st – Judi Batchelder – 1924 10k gold class ring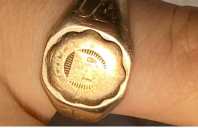 2nd – Glenn Godwin – 1807 Mexican ½-reale
3rd – Stepper Camilleis – Sterling silver thimble
Buffalo nickel draw – Rick Smith – he won the pot of 4 Standing Liberty quarters!  Congrats, Rick!
Raffles:
1921 Morgan dollar – Paulo Adams
1963 Franklin half – John McGillicuddy
1942 Walking Liberty half – Dave Rockwell
50/50 – Rick Smith ($71) – Bob Denault