Recorded by Stepper Camilleis
The highlight of this meeting was the El Cazador prize raffle. Paulo Adams held up a jar filled with 980 raffle tickets for the certified 1780 Spanish silver coin that was recovered from the wreck of the El Cazador. This spectacular coin was won by Dave Rockwell.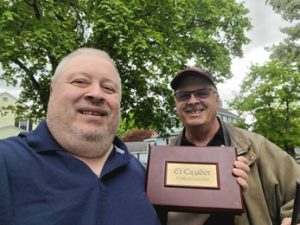 Scott Ferguson came up with the excellent idea of hosting a similar contest, perhaps quarterly rather than annually. One suggestion for a prize is a gold nugget recovered from the SS Central America that sank in 1857. There will be further discussions regarding what works best in terms of shipwreck recoveries.
There was a preliminary discussion about reopening live club meetings starting in September or October. A temporary meeting site was suggested, at the former site of Fort Devens in Ayer. Paulo and Scott aired this proposal out to the attendees of the meeting. Further details will be forthcoming regarding this or any other potential meeting sites.
Regarding the COVID scourge and everyone's health, we got updates from Rick and Bobby and Sue.
Victor Ausilio discussed how he has observed that so many grandparents are raising children, especially since last year. Judi Batchelder also observed that children are losing their parents and that it's sometimes tough these days for children to get a decent education, especially in a virtual setting.
Kudos to Judy for sponsoring a program about metal detecting program at the elementary school in Pembroke where she teaches second grade. This is taking place Friday afternoon, May 14. Foreign coins will be strewn over the schoolyard in ample quantity so that each of 16 kids can detect about 20 coins. Thank you so much for your support to the community, Judi!
Paulo mentioned that Rita Colella, a longtime MTHA member and former resident of Watertown, is interested in coming back and joining us on the Zoom meetings soon. It was unanimously voted that Rita would be reinstated as a lifetime member. Welcome back, Rita!
As for exciting detecting stories, Kent Blethen came back and found a beautiful 1747 Mexican 1-reale. Dan Schwartz displayed a 1630s King Charles I British silver twopence a friend of his found. Dan also spoke of a hunt at a park in 2006 in Somerville, near where he used to live, where his detecting buddy found a 1569 Elizabeth I silver coin … this may have come over on the Mayflower or even earlier! Dan also discussed his adventures at Plum Island where he detected lots of old silver coins, and his friend found a Spanish 2-reales and a Revolutionary War button of the Massachusetts 11th Regiment, which is apparently quite rare.
There was also a discussion of an abundance of 17th-century Islamic coins found on the Cape, and debate as to whether these coins were tied to activity of one particular pirate. The general consensus is that the coins and the pirate are not related. Last September, Stepper Camilleis detected a Spanish copper maravedi from 1651 that was in fact determined to be a pirate coin. Stepper lives on the Cape and wasn't aware of any Islamic coin circulation.
Two-week Finds Contest winners: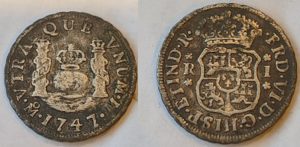 1st – Kent Blethen – 1747 Mexican 1-reale
2nd – Aidan Shea – gold ring with onyx stone
3rd – Stepper Camilleis – Coin spill of 3 Barber quarters and a "V" nickel
Barber half draw – Christina Lamkin – didn't win (180 tickets sold for this)
Standard raffles:
1902 Morgan dollar – Bob Denault
1960 Franklin half – Sue Rockwell
1941 Walking Liberty half – Aidan Shea
50/50 – Rick Smith
El Cazador ticket raffles:
Grand prize – 1780 Spanish 2-reales – Dave Rockwell
2nd place – 1921 Morgan dollar – Bob O'Neill
3rd place – 1934 Peace dollar – Judi Batchelder
4th, 5th and 6th place – SLQs – Bob Denault, Scott Ferguson and Stepper Camilleis
Special Prize – El Cazador comic book – Sue Rockwell