Five visitors joined us in Devens MA for the first Club meeting in over a year!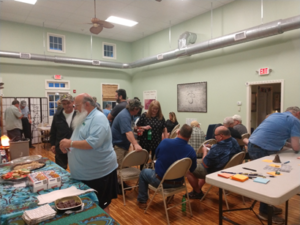 The club is strong and has continued to gain more members. We hope to get back into the Newton meeting place soon; but are waiting to hear from the Woman's club on availability. 
Judi spoke about the accolades she received for helpers in her May 14th school hunt in a  Pembroke. Meeting members made it happen for some future hunters. We were glad to see Ray and Rick back with some medical miracles.
Our yearly club hunt is on for Saturday October 2 in Milton. Registration open late in July.
We started by recognizing all who helped keep the club connected thru these long months. Jim, Paulo,  Mark, Stepper, Sandi and Rick provided means to keep up to date with each other on ZOOM, Facebook, our website, and with running events.  We are all glad that Scott has kept us going and growing in Massachusetts.  Thank you to all who came to outings (we had many!) and ZOOM meetings.  Thanks to all who kept online portals up to date and accurate.
A few members from the Apple Valley Relic Seekers came to visit our club in addition to the 26 club members who enjoyed snacks, raffles and games run by the club in a nice atmosphere.
Marita won the Morgan Dollar in the Silver "Dime Quarter Half " grab bag.
Bob Denault won the "bowl of silver raffle".
Scott entered the "treasure chest"  alternative drawing, but ended up with a Dandy Don Dime.
Five dollar scratch tickets went to Judi, Don, Bob D, and Mary Mc.
The silver halves/1oz rounds drawings were won by Paulo, Mary Mc, Dave R, Rick and Johnny Cache
The 50/50 drawing of $103 went to Stepper
A few items made it to a finds table.  Be prepared for our next meeting on July 16th!
FOM
Pre 1900 Coin -1798 Penny Stepper
Post 1900 Coin- 1910S 1cent
Relic- WWII Gunner Badge  Broderick
No Jewelry entered !