It was great to be back in person with 31 members again after the long haul of the COVID pandemic confined us to Zoom.  We have moved to the Newton Presbyterian Church right off route 90.  Guests were Doug York of Salem MA and Dave Adams from Newton. Doug started detecting more than 40 years ago
and signed up as new member. 
Mark announced that his son got married on August 15. Karl's  wife Charlene, who is ill sent the club a thank you for our support.
Broderick made a stupendous find this month consisting of a Georgian period (probably from sometime in the 1700s) gold-plated watch winder. This won Best of Show for the month.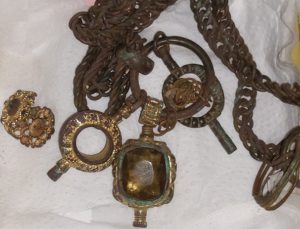 Treasurer Paulo mentioned that the club balance is a bit thin due to large purchases of silver coins including for the upcoming October 2 hunt. He said that there was about $1700 in the bank but that the balance would be back to normal in October after our hunt  income.   526 tickets have already been sold for the year-end Christmas raffle.
If you haven't already, you need to sign up for the October hunt that will be limited to 100 hunters. Club member were offered a discount . There will be 675 silver coins and 2000 clad coins buried during two hunts, one in the morning and one in the afternoon; and a chance for a gold coin in a third hunt.   Some of us remember Roy Gouge, who as far back as the 1970s owned a metal detector shop on the upper Cape, in Wareham, and was President of the Gateway
Treasurer Hunters' Club, and his wife Phyllis, who were very active participants at MTHA events. Phyllis died several years ago but Roy was designated as
an honorary lifetime member. Roy now lives in Tennessee and also in Florida and he recently sent the MTHA a check for $200 as a donation t toward the purchase of several Morgan silver dollars as hunt prizes. 
Club Librarian Jim mentioned that the MTHA gained 20 members since tour last meeting in Newton Highlands in February of 2020. Jim had several new club cards printed for us with the new venue address.   Mark was able to retrieve the foot locker from the Newton Highlands site for our Library.
Club President Scott told an entertaining story of a hunt he attended many years ago that was sponsored by Roy's Gateway club.
Club officer elections will be taking place in October and nominations are due in September. At the August meeting we discussed the option of members volunteering to take over incumbent officer positions.
RAFFLES
Silver Dime Drawing – Kent (won 25 silver dimes)
Silver Ingots (5 ticket drawings) – Dave , Sue , Mary Jane
, John , Broderick
Royal Canadian Marconi Sets (2 drawings) – Jim , Dave
1988 Olympics Proof Silver $1 (2 drawings) – Victor , Joe M
"Successful Coin Hunting" book by Charles Garrett – Paul Z
"Treasure Hunting" book by Charles Garrett – Dave
50/50 ($108) – Cam
Indian Head Draw – Glenn , didn't win
Door Prizes (2) – Helena Minelab Equinox 600/800 manual – $10 bill contest won by Victor
FIND OF THE MONTH
Pre-1900 Coin:
1st – 1876 Liberty Seated quarter – Stepper
2nd – 1890 Indian Head cent – Kent
1900-Later Coin:
1st – 1905-S Barber dime – Broderick
Jewelry:
1st and Best of Show – Georgian Era Watch Winder – Broderick
2nd – 18K diamond and sapphire ring – John G
3rd – 18K wedding band – Bill S
Relic:
1st – Circa 1840 coin silver spoon handle – Stepper
2nd – Circa 1830 Diplomatic Eagle button – Broderick
3rd – 17th century show buckle – Kent